Velocipede Hand Car Restoration
This exhibit will show the restoration of two SP&S Velocipedes and a SP&S Speeder and Push Car. We will take you through the process with our restoration team and have photos and examples of the finished projects as they come available.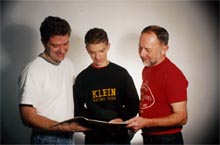 Let me introduce you to each member of the restoration team.

Harold Henderson began his railroading career in 1978 for BN, Inc. Previous schooling in both metal and wood working was beneficial in his completing an apprenticeship program in the Carmen's craft. He is currently working as a Car Inspector in Vancouver, Wash. Harold is an avid participant in automobile restoration. His railroad vocation, complemented by his hobby, fed his excitement to undertake the restoration of a velocipede. Harold and his son Cameron are confidently looking forward to that first ride back into history on the finished product.

Cameron Henderson is a Sophmore at Battle Ground High School. He enjoys refining down-hill mountain bikes to suit his particular style of competitive riding. His fascination with a "cycle" that travels on rails came as no surprise. Cameron's mechanical talents are being enhanced by the opportunity to work on this restoration project with his father.

Walt Garrison is a 35-year veteran of railroading for the former Spokane, Portland and Seattle Railroad, BN, Inc. and now the BNSF. He remembers seeing the switchtender (Fred) in the Vancouver, Wash. trainyard riding a velocipede as he cleaned and oiled the switches and filled the switch marker lights with kerosene. When Walt recognized the parts of an old velocipede in a pile of odds and ends, he purchased the pile with a restoration project in mind.